If you sell a service or offer anything that is local centric you MUST, MUST, MUST ensure you have local findability and leverage the increased adoption of smart phones especially the iPhone.
Recently I was in Austin Texas for SXSW and needed to get a cab after an event at the Carver Museum to get back to our hotel. I summoned the search function of Google on my iPhone and typed in "Austin taxi" and you see the result below.  It gave me two listings – paid and organic for Yellow Cab Austin.   Yellow Cab is the largest cab company in Austin and one we had been using most of the week so we thought we would continue to be loyal to them.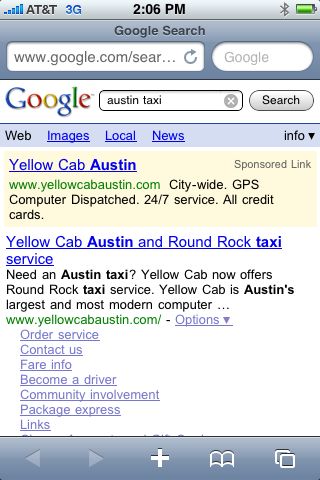 What would have been optimal would be to have the phone number in either of the search listings. Since the number was not obvious I clicked on the "Order Service" link.   I was taken to a page that had the number and I was able to click the number and get the dispatcher.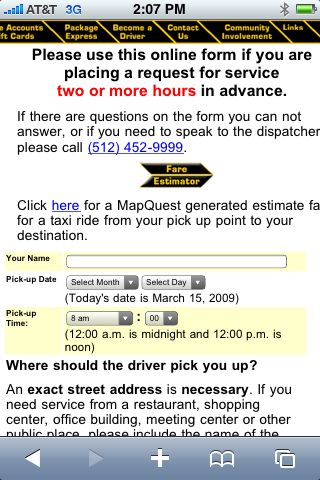 When I went back to the listings and scrolled down I encountered Google's Mobile listings which had a number of Yellow Cab's competitors listed but not the big guy.  Yellow Cab has obviously optimized their site via SEO and is spening money on paid search and has a fair bit of "ShelfSpace" but is totally missing out of the funtionality of mobile search and SmartPhone integration.
Had I scrolled down I would have been 1 click away from ordering a cab from three of their competitors.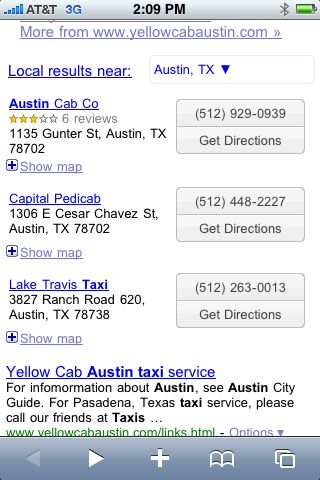 It is strongly recommended that any local or even national businesses with local offices leverage Google's Local Business Center to ensure their listing is accurate and included in Google Maps and Mobile Search.
The Google Local Business Center listing is free.  When potential customers search Google, Google Mobile or Google Maps for local information, they'll find your business: your address, hours of operation, even photos of your storefront or products.  They have also added a feature to offer coupons which makes it totally local and measurable when they bring them into the store to redeem them.