There was a brilliant article in ClickZ from Julie Batten recently about Leveraging Social Media Buzz for SEO Success.
.
I think Julie does a great job of explaining the opportunity and end result of integrating search and social which has a lot of enterprise marketers giddy with anticipation of flowing links and higher rankings.
When someone submits, shares, or promotes your content on one of these sites, they typically include a keyword-rich link to your content. As this content gets shared over and over, your site generates more inbound links. Therefore, your link authority increases over time, along with (hopefully) your organic search engine rankings
While I do think there are brilliant opportunities to be leveraged, we need more focus on how to operationalize this new opportunity in large or small companies.
Based in my experiences over the past few years working with F100 companies to achieve this level of interaction would take no fewer than 50 meetings to build the basic of the integrated workflow required for even minimal success.
One of the biggest problems is that half of them would spend a ton of money with clueless agencies doing "social media campaigns" while the other half will be bogged down conducting studies of the ROI and implications of working with their brethren before they would even start to change their collective antiquated best practices.
One of the simplest things companies can do to improve the integration is to add keyword rich links that point to the products they are announcing in their press releases.
I have shown clients numerous examples of bloggers and review sites who have provided almost immediate feedback from just the press release announcement of a new product but many of them still refuse to add direct links.
Current Problem: Restrictive Press Release Policies
Press Releases are one of the most effective methods of generating awareness and yet they have not fundamentally changed in many years.
Many PR companies and internal teams still only focus on getting the big story through their relationships.  That needs to continue but there is massive opportunity to leverage the distributive impact of digital press releases.   Even those that are using digital distribution tools are not putting the right links into them.  Most F100 companies will not allow any links other than that to the home page or back to their own press centers.  This is a massive waste of opportunity to generate quality links and generate traffic.
Opportunity:Â  Give PR new Performance Metrics
One of the most successful ways I have found to get PR teams to look at social media and especially press distributions and blogger outreach is to give them credit for their efforts with metrics.

Compliment to Press Clippings:
PR teams love the fact they can show how much play the release got on the web. Many blogs simply suck in the releases into their sites as they go out.  This makes for a great screen shot for the press teams.
Simply recommend that a few days after the release goes out simply take the subject line of the release in quotes and do a Google Search and we see how many people picked up the release.  For example
On June 19th Sony put out a release that about their new Vaio NW series notebooks with Blu-Ray DVD technology with the subject  "NEW SONY NOTEBOOK DELIVERS STUNNING BLU-RAY ENTERTAINMENT AT ENTRY-LEVEL PRICE"
A quick search of Google: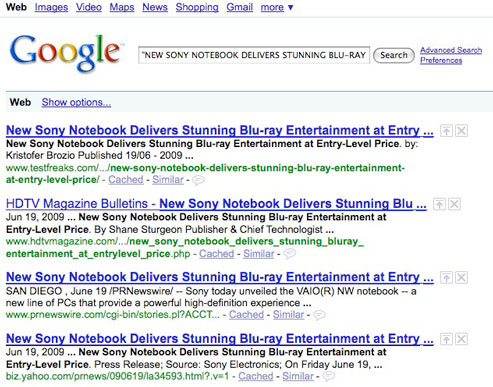 As you can see a number have the headline just as they sent it out.� In fact, 3 days after the release went out Google shows 16,800 pages with this exact release subject included.� I think this may be as impressive as the actual articles they generated via traditional outreach.

Show how much traffic they drive:
Sony has obviously seen how effective this can be since they have included a link in the release directly to the ecommerce page on SonyStyle where people can get more information or purchase the product when it is available. For those that don't/can't put links to a product page you can use blog and review sites as a proxy.
For example:
The release was picked up by SlashGear, a popular electronics site and was edited and put on their site within a few hours of the release going out.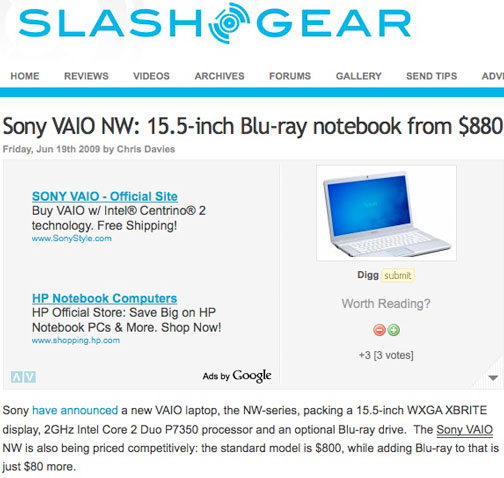 At the time of this writing, SlashGear came up #4 in Google for "Sony VAIO NW notebook".   The editor took nearly all the information from the press release and has a link back to the press release on Sony as well as to the product site.  If the PR team were to look in their web logs they could see, starting on June 19th, how much traffic the link they got in SlashGear and add that to their reports.
If the PR team reviews the sites that have listed the release and included the links they can send the list of the more popular sites to their web analytics team and mine the data over time.  In one case where we did this at Global Strategies we had a client generate over 150,000 unique visits over a ten day period from a single release distribution announcing a new product.
In the case of Sony, since they put a link to the product page in SonyStyle with a unique URL/redirection they are able to track how much traffic was sent from the press release and potential how many sales were generated.
I think if we can all start offering more actionable advise to companies on how they can really leverage the integration of search and social we should have greater adoption in the future.