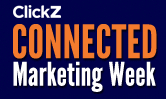 The editorial geniuses at SES and ClickZ have developed a week long "festival" named "Connected Marketing Week" which they describe as "A New Era of Information, Marketing, and Insights" all under the banner of "Connected Marketing Week.
This event piggybacks on the hugely successful Search Engine Strategies Conference in San Francisco but loops in all of the other forms or marketing in an attempt to help marketers understand that it is all connected and not a bunch of silos.
Each day of week has a different theme and the mandate to speakers is to try to show the connections. With the increasing fragmentation of all forms of media marketers need to starting looking broadly at all the connection points where they can intersect with consumers. As I have always said we need to find multiple ways to "attract, engage and retain" consumers and those who do this will be successful.
On Friday ClickZ is putting on the Integrated Marketing Forum
This one-day forum will examine the latest marketing strategies, including social media, mobile, and search marketing, for global markets with a special emphasis on the Asia-Pacific and Latin America.  For each of those markets ClickZ has identified true experts who will offer an immersion into the details and opportunities of digital marketing in the fast growing markets of Japan, China, Russia and multiple countries in Latin America.
I will be participating that week in a few of the events:

Tuesday August 17th
Link Building Basics
Discover how search engines rely on link analysis as an important component for ranking web pages. You will also learn how to increase traffic to your site by building quality links in an appropriate manner.
• Moderator:
Bill Hunt, SES Advisory Board & President, Back Azimuth Consulting
• Speakers:
Christoph Cemper, Managing Director, Cemper.com
Debra Mastaler, President, Alliance-Link
Richard Stokes, CEO, AdGooroo
Thursday August 19th
Enterprise Level SEO
The enterprise level SEO session is designed to meet the specific challenges of large enterprise organizations. Topics for discussion will include SEO tactics specific to large sites (sites with thousands, if not millions of pages), the challenges of educating key stakeholders in the organization including budgeting issues, and implementation hurdles common to large organizations including CMS issues and IT team challenges. This session will also include a proven model of organization for your enterprise level SEO campaign as well as a summary of key metrics that you should be measuring to drive ongoing SEO strategy. If you are the SEO point person for an enterprise level organization with a lot of moving parts, this session is for just of you!
• Moderator:
Seth Besmertnik, CEO, Conductor, Inc.
• Speakers:
Crispin Sheridan, SES Advisory Board & Sr Director of Search Marketing Strategy, SAP
Bill Hunt, SES Advisory Board & President, Back Azimuth Consulting
Ray "Catfish" Comstock, Director of SEO, BusinessOnLine
Guillaume Bouchard, Co-founder and CEO, NVI
Friday August 20th
Crispin Sheridan from SAP and I will kick the day off with a fast paced keynote on developing a blueprint for Global Marketing in an ever increasing digital world..
A Blueprint for Global Marketing in a Digital World
What are the issues you need to consider when moving into a global market? Learn about opportunities in new markets and logistical and cultural issues. These two seasoned marketing practitioners will share insights on developing and deploying a global digital marketing program and measuring and monitoring performance.
I will then be back on in the afternoon to moderate the China Workshop
China Marketing Workshop
Global marketing experts will drill down to discuss country-specific trends and best practices for marketing in these countries and regions. Discussions will explore the most relevant marketing channels and their evolution in each region, from search, mobile, display advertising, and social media.