Last Thursday following the last day of SES San Francisco I attended a launch party for the brilliant new company Social Rewards started by Joe Morin and Mike Uesugi. I think they have a winner with this company since it effectively connects brands to consumers and leverages Word of Mouth to help spread the word about new products and services faster than you can with traditional media.
The night kicked off with Joe announcing they would be giving away over 50 cameras and assorted other prizes. Everyone likes to win things but the last thing I needed was another camera. I have 3 on my desk now not to mention thousands of dollars worth in my underwater photography set up.    Another problem – all of my cameras except 1 are Canon. I have been loyal to Canon for over 25 years. I did cheat last year and buy an Olympus waterproof that I use on dive boats  – only because Canon did not offer one.
Honestly, I now know this Canon loyalty kept me from looking at other products. I would have never thought of Sanyo until I saw the impressive display at the event of all of the dual-format cameras and people taking pictures with them that evening.  After looking at the dual format concept I got to thinking about the implications for underwater photography.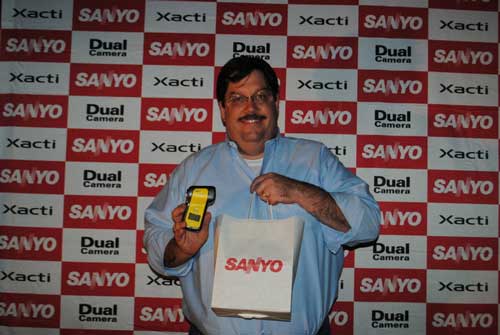 Well, I was a lucky winner of one of the Sanyo VPC-CA102YL Xacti Dual Video & Digital cameras.  Ok, Sanyo, need to work on your product naming conventions.   It is a very cool camera. I was going to buy a Flip video (simple name) and put it in a waterproof housing to take with me next month to snorkel with the manatees but this camera is perfect. I can video these beautiful animals in addition to just taking pictures with my normal underwater rig.
Upon returning home from San Francisco my son had tickets to the Giants & Patriots football game and saw the camera on the table and he wanted to take it with him since he thought it was a very cool camera. Unfortunately, it was not charged so he had to go without it. Need to make sure he does not steal it and take it back to school.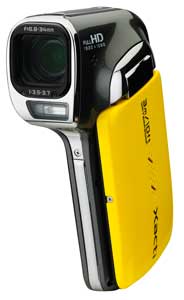 After playing with it a few days it is actually a great piece of equipment. It is full HD video with zoom and the sound quality is excellent.  In addition to video, it takes 14 megapixel still photos. The beauty is that it is small enough to just throw into your computer bag or glove box to always have with you. On top of that, it works well with the Eye-Fi data cards (won one in bingo at the party too) with onscreen collaboration with the functionality.
I will post some pics and a video in the next few days when I have time to process them but I did want to say thank you to Sanyo and the crew from Social Rewards for both a great party and introducing me to this awesome product.